LATEST ISSUE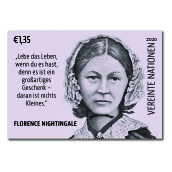 The World Health Organization (WHO) declared 2020 as the International Year of the Nurse and the Midwife to recognize the critical contribution both professions make to global health. The year also marks the bicentenary of the birth of the founder of modern nursing, Florence Nightingale (1820-1910).
Florence Nightingale was born on 12 May, 1820 in Florence, Italy, the city which inspired her name. She came to prominence while serving as a manager and trainer of nurses during the Crimean War, in which she organized care for wounded soldiers. While making her night rounds she became known as "The Lady with the Lamp".
During her career, Nightingale laid the foundation for professional nursing by establishing the Nightingale Training School for Nurses at the St. Thomas' Hospital in London in 1860. Her efforts to reform healthcare greatly influenced the quality of care in the 19th and 20th centuries.