LATEST ISSUE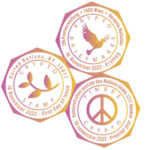 Launched in 2020, this is the second in a series of United Nations Crypto Stamps issued by UNPA. The stamps in this series feature symbols of peace and the word "peace" in six languages.
The stamps, which were developed in conjunction with the United Nations Office of Information and Communications Technology connect a new generation of United Nations stamps with blockchain technology.
Each stamp carries a unique secret code hidden behind a scratch-off area. There are seven variations of the peace design that may be obtained (including a limited-edition variation) when the digital stamps are claimed online.