Description
On 2 December 2016, UNPA will issue a new special event mini-sheet to commemorate the 33rd Asian International Stamp Exhibition in Nanning, P.R. China. The sheet in the three denominations of US$ 1.15, CHF 2.00 and € 1.70 features the "Monkey King" character (also known as Sun Wukong) of the popular Chinese novel "Journey to the West" published in the 16th century during the Ming dynasty. The novel is an extended account of the legendary pilgrimage of the Tang dynasty Buddhist monk Xuanzang and his protectors who traveled to Central Asia and India to obtain the Buddhist Scriptures.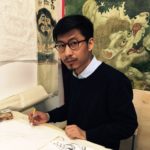 The sheet is illustrated by the well-known Chinese artist Li Yunzhong, who also designed the 2015 "Journey to the West" stamp series for China Post. The author, formerly known as Li Peng, (Hohhot, Inner Mongolia Autonomous Region), was graduated from Inner Mongolia Normal University and Central Academy of Fine Arts (CAFA). As a member of Inner Mongolia Artists Association, he is the designer of Journey to the West stamps (China Post, 2015), Xuanzang stamp (China Post, 2016) and Mid-Autumn Festival Moon stamp (China Post, 2016). Meanwhile, Li Yunzhong was also the art consultant of animated film Monkey King Thrice Beats White-bone Demon (2016), designer of One Belt And One Road character series on Global People magazine; and has successfully organized the restoration project of Fahai Temple mural in CAFA. Having studied painting since childhood from his grandmother, Li Yunzhong took a long-term study of classical literature, especially Buddhism classics, and his works reveal a deep understanding of religions. Li is good at Buddha figure painting, especially traditional Chinese meticulous painting. Rather than making a sketch, Li paints smoothly without strokes and retouching, which makes his works smooth and rigorous. To find out more about Li Yunzhong, visit his blog at http://blog.sina.com.cn/u/3672620653.
Customers with standing order requirements for special event mini-sheets New York (Art. 96) will automatically receive this item through their accounts.